"Hey, that's Sendik's!"
Most students in Room 123 recognized the WFB store, but they couldn't figure out why I was showing them a picture of it at the start of a math lesson. Then I explained: My daughter works in the floral department at Sendik's and she is hoping you can help her solve a problem.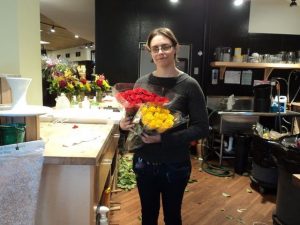 Nora's boss asked her to use red and yellow roses to make bouquets. Each bouquet must have five roses. Now, some customers like more red roses in their bouquets and some like more yellow roses in theirs. Nora needs to make as many different color combinations as she can, so her customers have lots to choose from. But she's not sure how many different bouquets she can make. She hopes you can help her figure out this problem!
Mathematicians use various models to represent and solve problems. This real-life context served as an introduction to modeling for our class. Students were eager to help Nora, as you can see below: