These bags are pretty dull looking, so what will first graders do with them?
Readers in Room 123 will fill these bags with books for Reader's Workshop! During the first weeks of school, students learned how to choose books that are just right for them. When selecting books from our classroom library, they think about their purpose for reading and what they are interested in. They also consider whether they can read most of the words and understand what they are reading. Student find the books that are "good fits" for them.
Students will read the books they have selected during our daily Reader's Workshop. When they are not reading with me in a small group, they can find a comfy spot in our room and read their book bag books. About once a week, they have the chance to choose new books for their bags.
Of course, readers couldn't leave those bags looking like they did! They decorated them to help make our Reader's Workshop festive and fun.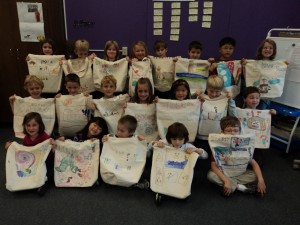 Happy reading, first graders!